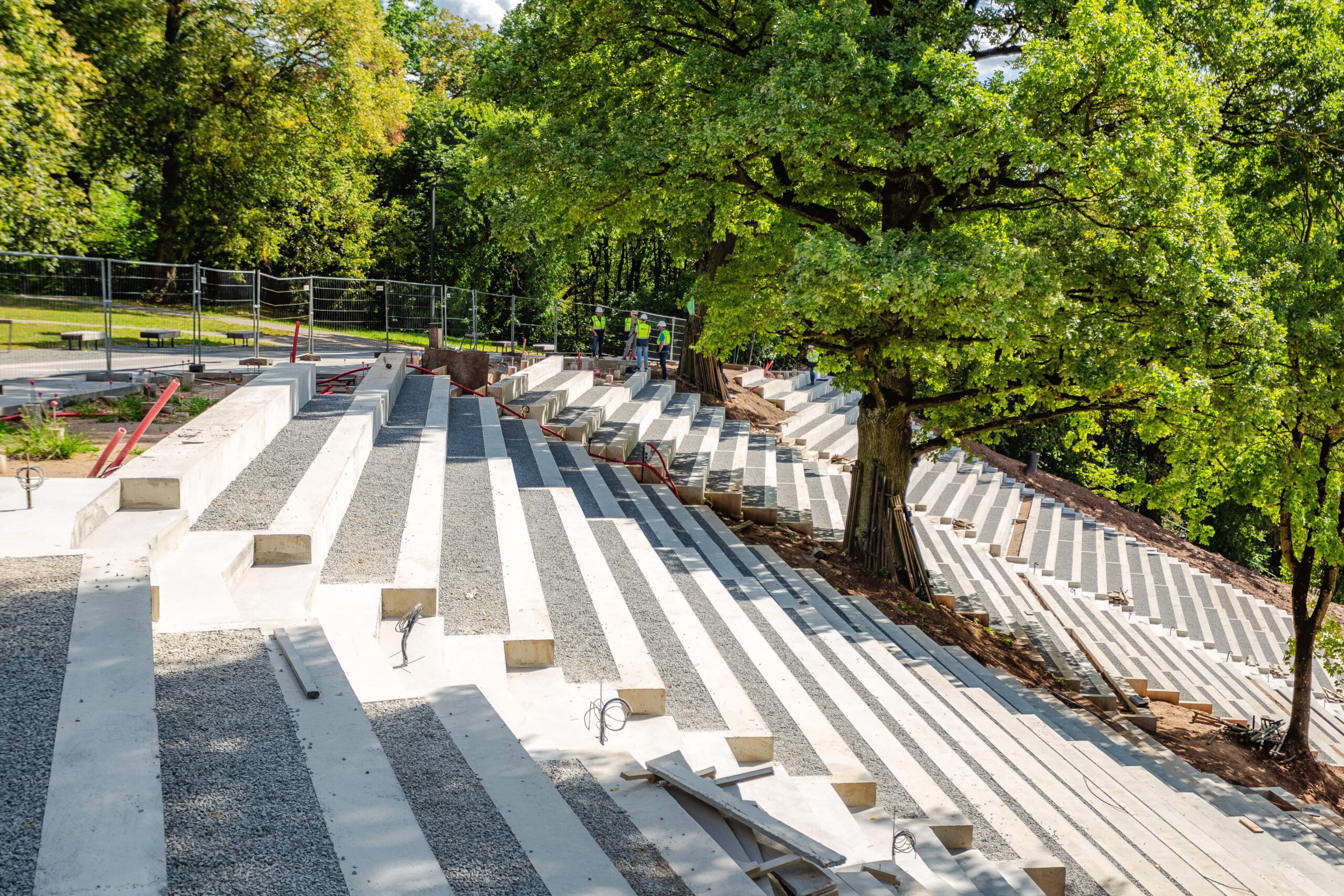 Completion deadline
Q1, 2024
Client
Administration of Kaunas City Municipality
About the client
Kaunas City Municipality was established in 1995 in the central part of Lithuania, at the confluence of the rivers Nemunas and Neris. The municipality has 11 districts. The municipality's administration provides a wide range of services from personal services, civil registry and environmental protection to social protection, urban planning and many others. In 2022, its administrative centre Kaunas was selected as the European Capital of Culture. The city is rich in examples of Art Deco and inter-war Modernist architecture.
The Valley of Songs was established more than 50 years ago to provide a poetic space for song events. After one of the celebrations, composer Klemensas Griauzdė proposed to name the space the Valley of Songs. Thousands of participants of the Song and Dance Festival come to the valley every year.
INFES work
During the reconstruction of the Valley of Songs, the pavements, stairs and benches of the stands will be renewed. Changing rooms, showers, makeup rooms, auxiliary and administrative facilities will be built under the performers' stands. The staircase will also be refurbished, as well as the electrical panel, the portal, and the stairwell. The area will have new lighting, with a vertical beam of light as the main accent, creating a place marker for the Valley of Songs.
Significance of the project
The Valley of Songs, which is over fifty years old and which has become a traditional venue for song festivals, has finally returned from the hands of private business to the City of Kaunas. Therefore, as the Song and Dance Festival celebrates its centenary in 2024, the fully renovated space will provide an opportunity to properly commemorate this important historical moment and to invite the city's residents and visitors to immerse themselves in cultural life in a modern environment.
Results
After the reconstruction, the Valley of Songs will become a green and cozy space for events, leisure activities, gatherings, and open-air recreation for the city's residents and visitors. Small-scale architecture elements such as wooden benches, litter bins and bicycle racks will make the visitors' time even more comfortable, while cozy lighting solutions, illuminating the treetops, will invite to visit the valley both during the day and in the evening.
Let's talk about your project